Red carpet looks are a high-pressure moment for celebrities. It defines their style and determines their ranking on the "hot or not" list in magazines every time. One star who always nails her red carpet looks is the radiant Blake Lively. Blake's husband Ryan Reynold's looks pretty sharp in a suit himself, but we can all agree he would be nothing without this radiant woman by his side, slaying every outfit that the rest of us dream of on a daily basis.
She's our style inspiration, our Princess Di role model on being kind, and our teacher on how to really work those angles and find your light. The reigning queen of Gossip Girl has never had a bad red carpet moment. We guess all those years of playing Serena truly paid off! Here are our favorite looks that seriously popped.
1. Here she is looking like Disney royalty as she leaves the Hotel Maritzen back in 2016. Not many people could pull off the Cinderella look, but Lively is practically a real life doppelgänger of the fairytale princess. Could anyone else rock that many ruffles?
2. Here, Blake shows off her baby bump with clean and pulled back hair style. She looks like an oasis, to say the least. That subtle ombre train, along with the one-shouldered detail, make this a classic Blake look of contemporary elegance.
3. This is one of Lively's more recent looks, which she wore to a red carpet appearance for The Rhythm Section. It's a far cry from her usual feminine looks, even in texture – black leather merges with black velvet gloves and dark, tall boots, finished chunky diamonds to lighten the whole thing up. This is such a bossy and edgy version of Blake that we're really hoping to see more of.
4. As always, the glowing actress looks like a literal angel here. A sophisticated cream shawl is the perfect partner in crime to this sequinned and bedazzled look that captures the sunlight in all the best ways. This was her outfit of choice for the Mr. Turner movie premiere.
5. Marsala isn't exactly a color that Blake experiments with often, but it's obvious that there's nothing that doesn't look good on the starlet. This burgundy dress features a softly pleated and cascading bottom with a daring thigh slit, along with an innovative neckline.
6. There's something about the way Blake rocked this dress that brought something new to the table. It blended old and new with an overtone of old school Hollywood. From those geometric cutouts and spaghetti straps, to the blush shade, this look really has it all.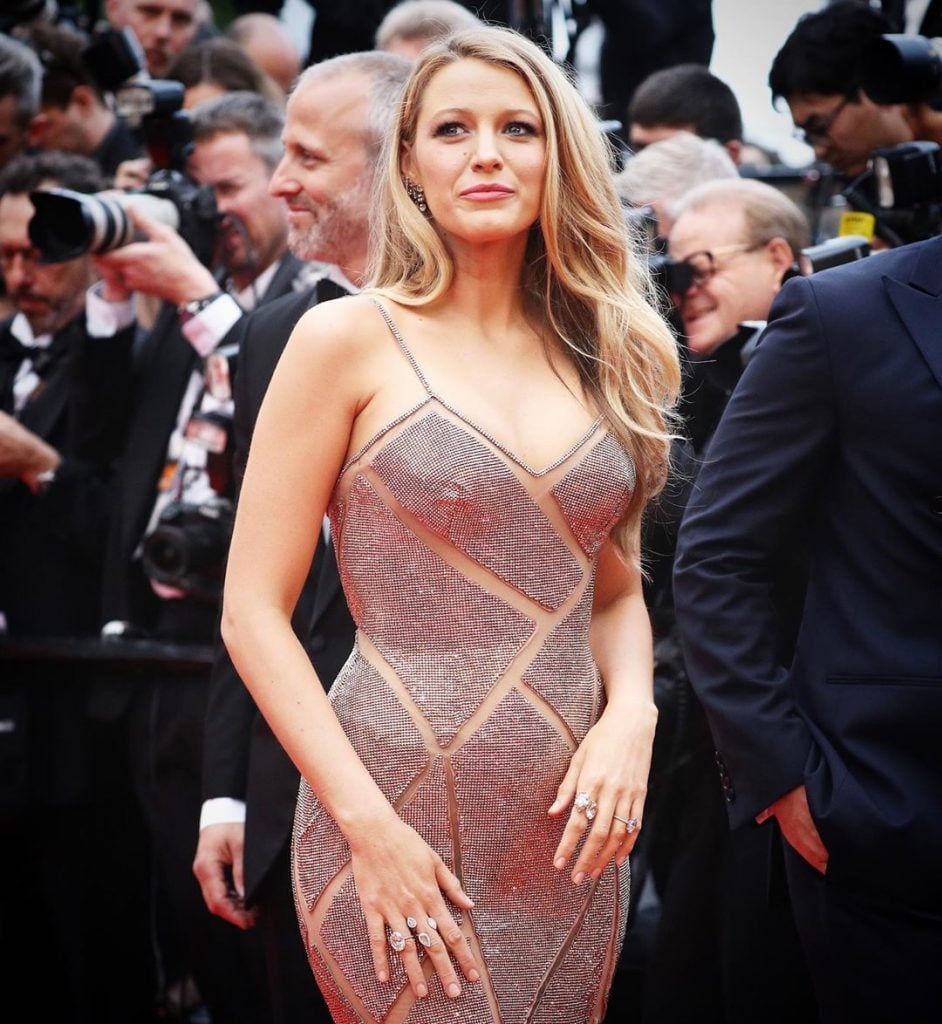 7. We're obsessed with this modern take on a tuxedo. The shoulder-baring look uses an inverted black top and a white, flared out bottom that adds a twist of ballgown to the black and white Gucci look. Lively always shows out at Cannes, and we can't wait to see what her post-quarantine styles will be.
8. Blondes have always looked good in red, but the color was practically designed for Ms. Lively. A feather bottom gives way to a daring, lingerie inspired top. Seriously, that skintight lace with a leather waist detail! This ensemble screams cabaret.
9. From her makeup to those rolling waves, this is another look borrowed from Hollywood vixens of the past. With the va-va-voom plunging neckline to that built-in cape, all the details are impeccable. Is this what Wonder Woman would look like at a formal event?
10. This Met Gala look was from 2019, and designed by Atelier Versace. We wonder how long it took to make this beauty, which featured decadence all over, and a pristinely embroidered train. That bejewelled bodice and slinky sheer detail on the legs was everything – this might be our all-time fave.



#Red #Carpet #Blake #LivelyFashion,Blake Lively,red carpete #Fashion