Contouring is a
strange thing but it's been ruling out life and our beauty regimen
for years now. It's essentially the process that uses the play of
light and shadow in order to achieve a more defined face shape. A lot
of the time oval is the face shape that appears to be most desirable
by people around the globe. But we're moving forward to a world
where being unique and different is good. So take this contouring
advice with a grain of salt and use the bits that suit you and omit
the ones that you find unnecessary. It's your face, your life, your
makeup. Here are just the traditional rules of contouring. But we all
know the rules are meant to be broken.
Contouring Round
Face
A face that's
essentially as long as it is wide is considered to be round. Celebs
like Chrissy Teigen, Mila Kunis, Ginnifer Goodwin have round faces.
When it comes to contouring what you can do with a round face is to
contour around your hairline, forehead and temples to make this wide
part appear more narrow. You can also add more angles to your face
and make it look more chiseled by contouring just under your
cheekbones. One thing you should keep in mind to use different shades
of contouring for different parts of your face. Make the forehead
contour darker and the cheekbone one lighter for a more natural
finish.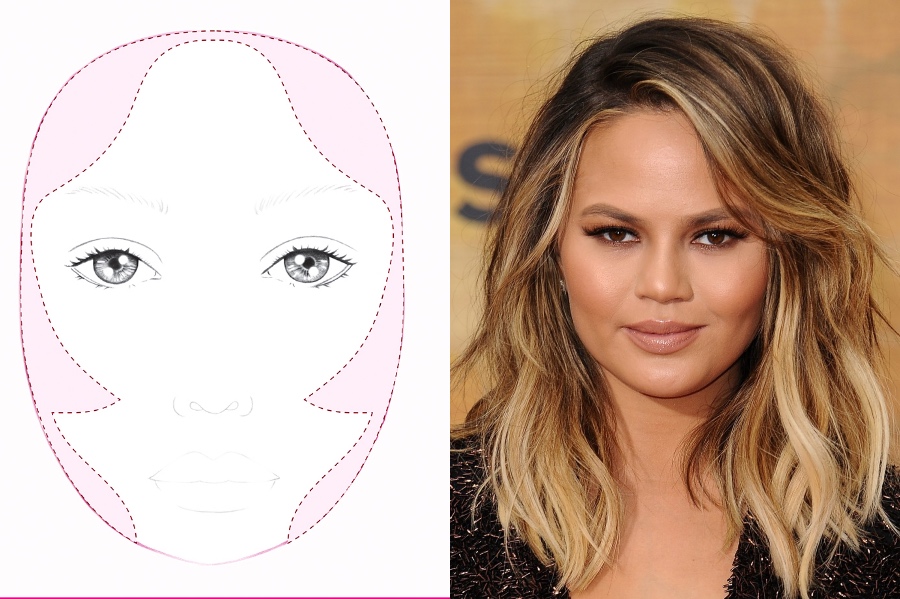 Contouring Long
Face
If the width of your
forehead, cheekbones and chin is very similar and obviously the
length of your face is bigger than the width. Celebs like Sarah
Jessica Parker, Lisa Kudrow and Gisele Bundchen have this face shape.
When contouring a long face you should concentrate on the forehead
and the jaw. You can also contour under your chin. This will visually
make your face appear shorter. If you want to make your cheekbones
more prominent, do horizontal contouring under them, instead of going
at an angle.
Contouring Square
Face
A square face is one
that's as wide as it is long. The forehead area, cheekbones and jaw
are all the same width. Olivia Wilde, Renee Zellweger, Kelly Osbourne
are good celeb examples of square faces. When contouring a square
face, the idea is to make the top and bottom narrower. To do this
contour the sides of your forehead and contour your cheeks from your
ear down. You can also contour the sides of your jaw to make your chi
look more pointed.
Contouring
Heart-Shaped Face
A heart-shaped face
generally has a wide forehead and a pointed chin. Reese Witherspoon,
Eva Longoria and the Olsen Twins have heart shaped faces. When
contouring a heart-shaped face it's best to focus on the forehead.
You can contour the sides of your forehead and temples to make it
look narrower. There's no point it contouring the cheeks because
they're narrowing down either way. What you can do it contour the
bottom of your chin to make it less sharp.
Contouring Oval
Face
Oval faces are those that are longer than they are wider and they don't have any major strong features. Celebrities like Jessica Alba, Beyoncé, Charlize Theron and Rihanna have oval faces. You don't really need to correct anything with contouring the oval face, you only use it to enhance it. You can just use the usual methods of contouring. Swipe the contour along the side of your face in a number three shape from your temples to the cheekbones to the jaw. This will just enhance the natural shape and make the face look slightly more chiseled and defined.



#Contouring #Face #ShapesBeauty,Contouring,makeup #Beauty