Harry Styles isn't just a world-renowned pop star, actor, and hottie – he's a fashion icon. A beacon of androgynous style, Harry has never shied away from a sassy painted nail or a floral blouse. And still, those boyish good looks serve us Leo DiCaprio meets David Bowie without fail, every time. Here are the best Harry Styles looks of all time – I mean, good taste is practically ingrained in his last name!
1. Wearing Gucci at the Brits 2020, Styles looked as editorial chic as he's ever been in this deep maroon look that bolds fashion and romance. Here, he wears one of the iconic peal necklaces that he's known to rock but paired with a more masculine suit and a lighter purple sweater over a unique lace collar. This look feels futuristic, but like an homage to the past as well.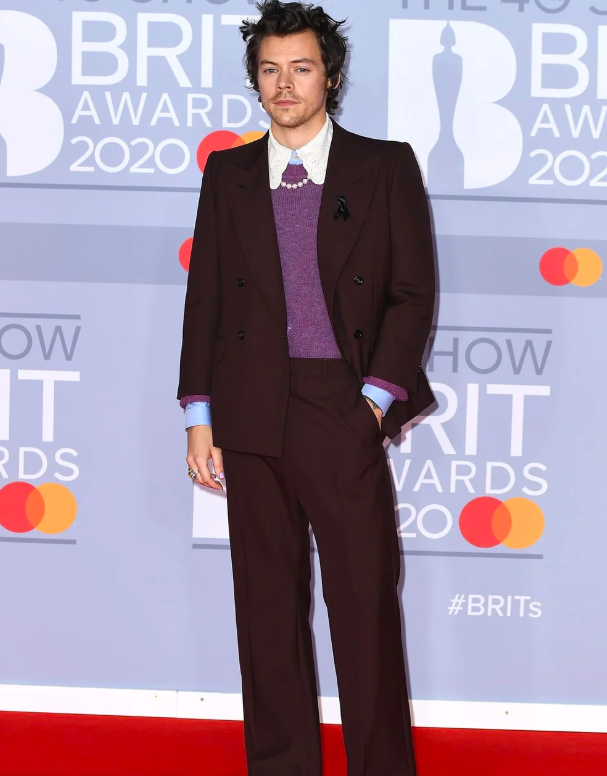 2. The pearl necklace makes an appearance here once again, this time with a grunge-meets-seventies look. A cropped plaid blazer pairs with an Alessandro Michele self-love tee and some awesome camel-toned bell-bottoms that are tailored perfectly to Harry. Only this guy could rock pants pulled up high with a tucked in tee. It wouldn't be complete without that killer manicure, would it?
3. Styles keeps cool in Calvin Klein's label 205W39NYC at the Dunkirk premiere, where he shows a surprisingly muted and masculine side of himself. The hair is clean and coiffed, and the suit seems to be an impeccable, all-black look…until you get to below the knees, that is. Western ankle boots The look is sophisticated with a hint of playfulness – a mood that Harry consistently impresses us with.
4.
Never one to shy away from a loud plaid, Harry wears one of his
signature printed all-over suits, this time in a red and white tartan
interpretation. This bespoke suit was worn in London with Gucci
loafers. Some of the haters compared it to a picnic blanket, but we
think they're just jealous they couldn't pull off the Vivian
Westwood designed look.
5. At the 2015 American Music Awards, Harry was just coming into his sense of fashion and discovered new inspiration in designer Alessandro Michele who helmed Gucci into the modern brand it is right now. On the red carpet, he wore this low-key floral suit, and it was the beginning of a flourishing, genderless floral period for Harry.
6.
Every female blogger and celeb imaginable wore Millennial Pink when
the shade was going through a particularly trendy period. But no one
rocked it better than the gender-fluid Styles, who rocked a drapey
suit with ease. Paired with silver rings and a black shirt to break
it all up, Styles gave us total Mick Jagger vibes with this Edward
Sexton designed lewk.
7. It's rare to see a guy rock a sheer look (especially a bodysuit) as flamboyant as this on the red carpet. Style is an emblem of genres fluidity here and fashion inspo for all the boys, girls, and everyone in between. The theme was camp, and Styles tackles it with elegance and ease in this all-Gucci-Everything look. Oh, and by the way, this was his first Met Gala ever.
8.
Ugh, even when he's dressing casual, he looks better than us on the
days we try the hardest. This effortless look is serving us
smouldering New Yorker, but he holds onto his androgyny with a
classic leopard print sweater tunic. Tight black skinnies and a long
black overcoat made this the ultimate look for fashion week.
9.
At the 2017 Aria
Awards in Sydney,
Styles wore a custom-made Alexander McQueen suit. The suit was
illuminating in more ways than one – fitting him to a T and stealing
the spotlight in all its metallic, purple and paisley drama. The
look is totally flashy but looks like something out o the pages of
GQ, especially when worn by Harry who can pull off literally
everything, as this outfit proves.
10.
Daring as ever at the HeartRadio
Music Festival,
Harry took some style notes from Austin powers in this
diamond-printed Gucci suit complete with a pussy bow. Honestly, maybe
he was meant to be born in a different era, because we don't
deserve all this sublime energy.
Head to toe in red, dark blue and white tones, it's official that the ex One Direction member is Gucci's number one style ambassador.



#Harry #Styles #Fashion #MomentsEntertainment,Harry Styles #Entertainment