We are what we eat, so it's really important to pay attention to what we put inside our bodies as we do it every day. Breakfasts, lunches, drinks, and soft beverages – there are so many things to choose from that we often get lost along the way. When we go on vacation to a foreign country, the temptation to try everything there becomes almost irresistible. From traditional cuisine to scrumptious local fast food dishes and drinks with unusual tastes, it is easy to get lost even if back at home you've had a nicely balanced diet. So how do you create a healthy eating plan and still enjoy your meals to the fullest? Here are a few simple ways you can eat healthy while on vacation.
Always eat breakfast
All nutritionists insist breakfast is the most important meal of the day and it has to be filling and energizing enough to get you started. You should not only think about vitamins and nutrients, but also about your whole meal being healthy as it is the first thing your body gets in the morning. It's not hard because you can get a healthy breakfast almost anywhere, even if it's just a Greek yoghurt and muesli mixed with some bananas or berries. Think about eating oatmeal on a daily basis as it is one of the healthiest ways to start the day.
Resist the urge to overeat when going out
Eating out is always an amazing experience as you get to try new foods you don't usually cook at home. Naturally, we want to try as many things as possible in one go, but that's a very dangerous mind-set and can easily get you in trouble. We eat out a lot during the vacation, that's why it's important to remember to eat your normal amount of food, not more. Studies show that most people these days eat out on a daily basis, which means you end up eating more than you actually need in restaurants that serve large portions or fast food vendors that sell fatty foods.
Customize your meals
There's nothing wrong in asking to customize the dish if for some reason you don't like eating this or that ingredient. It's becoming a new trend as more and more people are asking to use special dressings that they like or some different oil to cook their meal. It doesn't hurt to at least ask if you have some special food preferences or stick to a certain diet.
Indulge yourself
There's no point in going on vacation if you can't enjoy all the delectable foods a new place can offer. So just eat whatever you want to eat! The main trick here is to have at least some control over these impulses and sample the foods, rather than feast on them. Make a conscious decision to indulge yourself with something special, a dessert or any other yummy thing of your choice, and just stick to it. Savor each bite and try something else the next day!
Move a lot
Sightseeing is most fun when you do it by foot. This way you don't get to rush and have all the time in the world to enjoy every bit of the city you're visiting. You can also end up wandering into some non-touristic spots and enjoy a first-hand local experience, which is hardly possible when you're going everywhere by car. The main trick is to eat what you want, but then move a lot to burn the excessive calories. Make use of that hotel pool of yours or spend a few hours at the beach swimming. You can also do some exploring while riding a bike or hiking in the nearby hills.
Schedule your meals
With an abundance of food offered by resorts, cafes, and restaurants, it's easy to lose track of how often you eat. Create a schedule for your breakfasts, lunches, and dinners, and carry a few healthy snacks with you at all times in case you get peckish. Turn each of your meals into a special event and change the places where you dine – this way you'll always be looking forward to your meals and will not lose track of what and when you eat.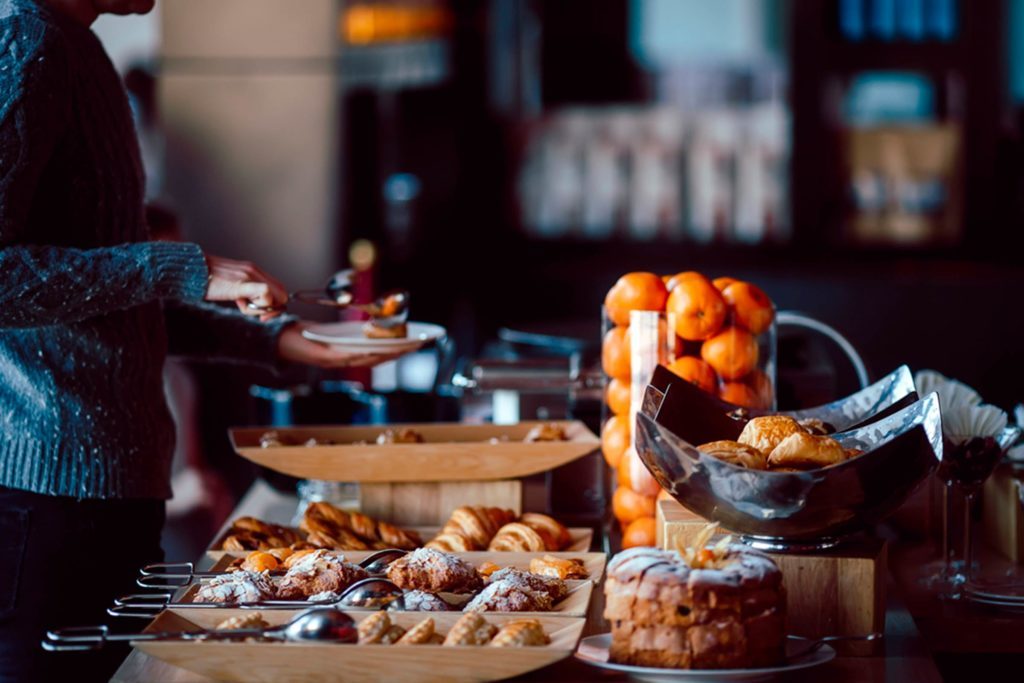 Go to the local market
You don't actually have to go out to eat every time you're hungry – just visit the local market and stock up on some fresh veggies, fruits, and dairy products. Not only will you get an interesting experience mingling with the locals, you will also have some healthy options for breakfast, lunch, and snacks. Add some muesli or granola – and you're good to go!
Make your own meals
It's always good to have more control over what you eat, especially if you're staying in a guesthouse where you can use the kitchen or have a kitchenette in your room. Go to the fish market to get the local seafood, buy fresh meat and farmers' produce to make your own grilled meat and salads. You don't have to do it every day (after all, you are on a vacation), but it is still a great way to get acquainted with local foods, especially if you are on a budget.
Drink lots of water
Feeling hungry? Drink some water first! Thirst often masks itself as hunger, so it's best if you always have a refillable bottle of water with you wherever you go. Keep yourself hydrated and you will look and feel better no matter what you eat. Add lemon to your water and it will become a powerful vitamin-rich antioxidant that also helps burn calories!
Eat veggies
Vegetables are incredibly filling, healthy, and rich with nutrients, antioxidants, and vitamins. Seems like perfect food, right? Because it is! Make sure you eat as many vegetables during the day as possible – this way your body will get enough fibre and all of your meals will be truly satisfying. Veggies also help keep your body's water balance in check!



#Simple #Ways #Eat #Healthy #VacationFood&Travel