We've seen trendsetters rocking shirts under their dresses for Fashion Week around the world all year long, and now we want in! The trend might be the antithesis of sexy for some, but it's a nostalgic and elegant yet edgy throwback to the '90s that we've been hungry for. Grunge will always be chic – but making it good enough for the fashion crowd? That's always a tough one. Luckily, we found 12 mega babes who have perfected the look and can help you perfect yours!
1. Love this NYC rocker babe meets ballerina look. Try out a vintage shirt with a pastel colored, semi-sheer gown. The ripped jeans peeking underneath the sheer and billowing skirt gives the ensemble a supremely high fashion, Black Swan-esque look, with a studded black clutch bringing it all together.

2. This is a great way for ladies that love the all-black look to rock dresses over a shirt for the fall. A sheer and fitted long sleeve top pairs great with an empire waist dress and is versatile with a lot of dress options, from maxi to sleeveless. Makes an edgy look more pulled together with black tights.



3. This Starbucks-nomming babe looks awesome in a boxy spaghetti strap dress and a flared, bell sleeve on a sophisticated white blouse. It's not fitted, but is still sharp and stylish. She's ready for a Vogue meeting – try this look with your own statement blouse

4. This is a bold look, but we're very into it. If you're a trendsetter, everyone's eye will be enviously following you as you try out this look.

5. This look elevated the t-shirt-over-dress is award show ready! A long, asymmetric look with a slit that runs from the cleavage seam all the way down gives the white tee underneath a tuxedo-inspired look. Strappy high heels and an envelope clutch purse complete the look and dare anyone who thinks a white tee under a dress
isn't high-end AF, then show them this pic.



6. This super risque slip dress gets a funky and contemporary update by adding a crew neck ribbed tee. The stripes contrast perfectly with this slip dress, and the deep scoop neck adds depth but keeps her covered up, letting the hemline stay flirty.

7. All the print loving gals out there, get ready for this fall-friendly look. This hottie with natural hair is rocking a high necked, classic silhouette with a 60's inspired green and white print, and a tight white turtleneck underneath. We weren't sure it was possible to make turtlenecks sexy, but this lady has proven that it is possible.

8. Champagne colored silks are usually swoon-worthy, and this A. Wang inspired ensemble is no different. High brow mixes with street-style for this flowy and angelic look paired with chunky white tennis shoes and a fringe-lined YSL purse. The dress would look too high end without the tee, but this way, it's an elegant take on grunge/shabby chic that is wearable, and at the top of our wardrobe wishlist. Throw on a pendant necklace to break up the look and make the neckline even more surprising!



9. It's hard to go wrong with black and white strips. This babe takes the classic LBD and throws a horizontally striped, 3/4 length black and white shirt with casual rolled up sleeves, and an oversized acid-washed denim jacket. Getting some serious "Clueless" vibes over here. Throw yourself back to the '80s (in a more muted, minimalist way) with this look.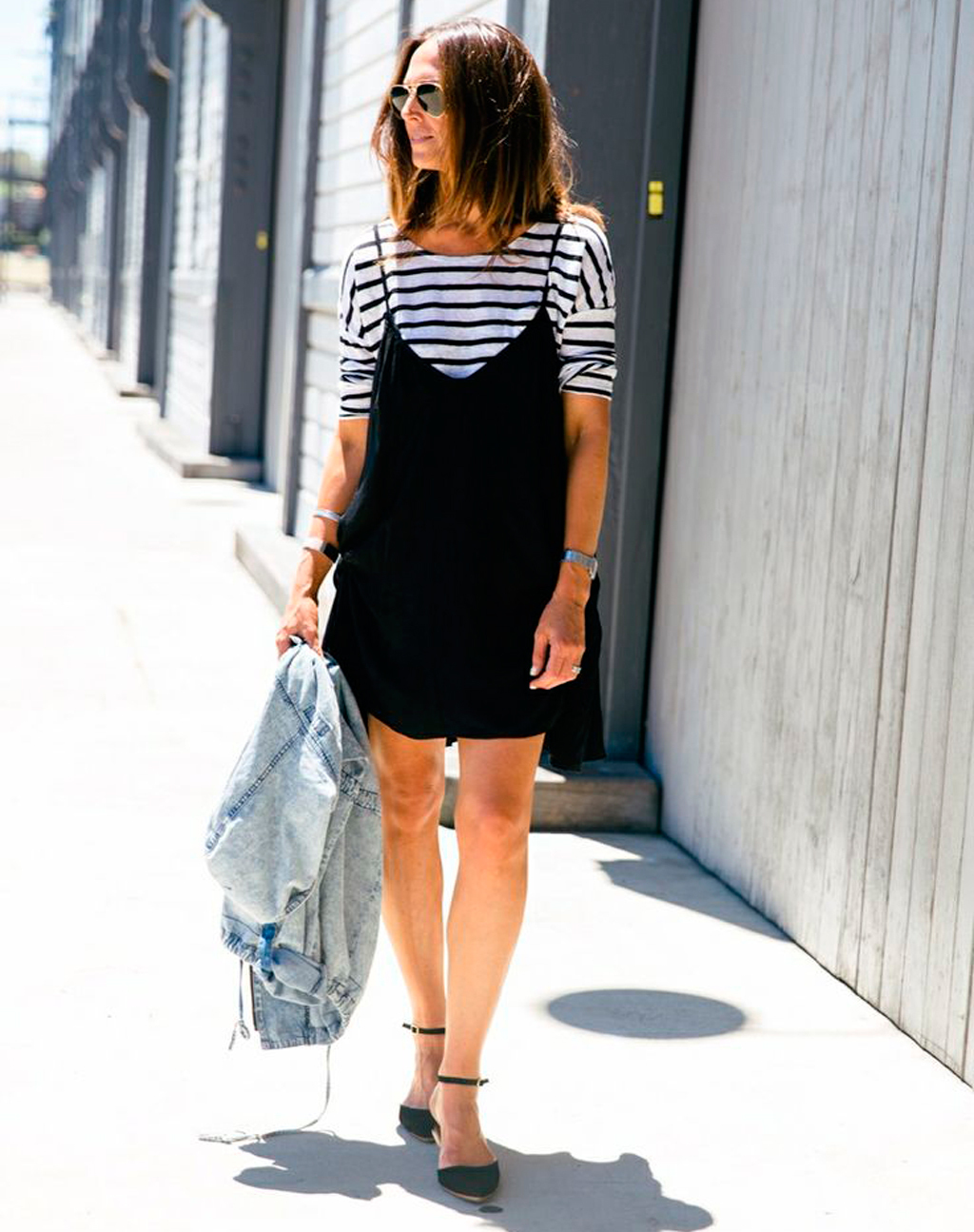 10. This chick adds a metal flare to an already edgy look, and we are obsessed with it. From Kylie to Rihanna, stars have been rocking Thrasher tees under their ladylike attire, and this girl is slaying that style completely, with her boxy, rocker style "Chanel" shirt (you can rep your favorite band) and a nude, spaghetti strap maxi dress go perfectly with oversized shades and a matching nude snapback.

11. A high-necked muscle tee is an unusual choice and might result in a slightly Amish inspired look, you would think. False. This maxi-rocking cutie looks as edgy as ever in this double knit layering situation that has us obsessed. Try a simple, high necked dark muscle tee like this, layering over with a stark and minimal color, like white. The pop of Nikes at the bottom and the simple leather wristband screams Paris. J'adore!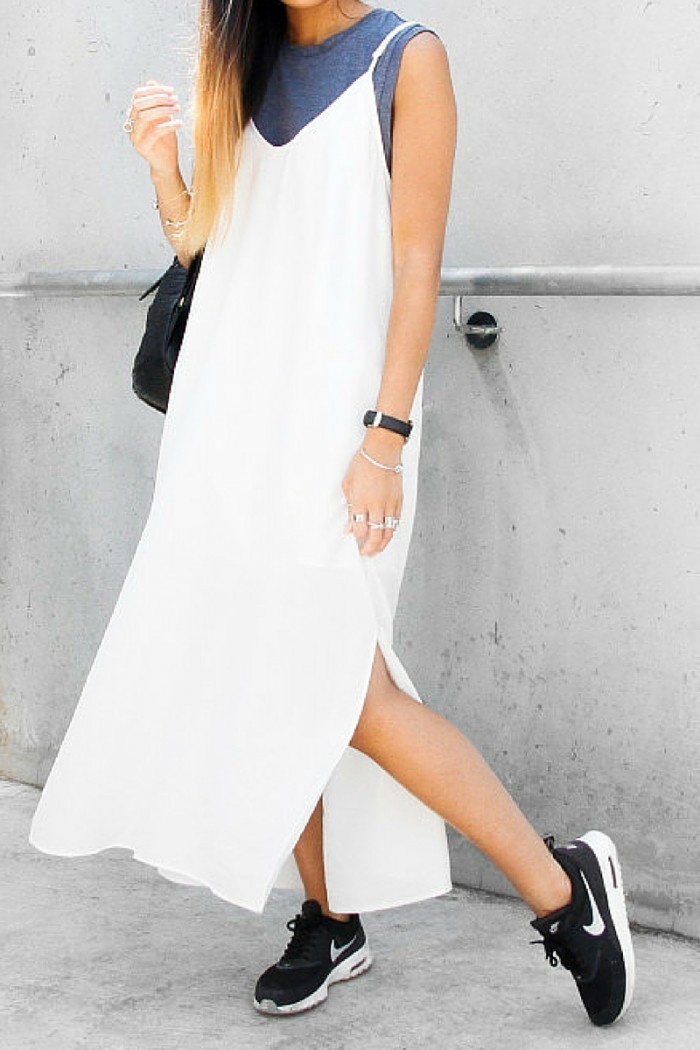 12. Chunky bucked black leather sandals that are kind of Birkenstock-chic pulls together this look. Perfect to try with socks for fall! This look is a little demure and a little sexy, versatile on a ton of different body types and styles. The small detail of the strappy v frames the simple white tee perfectly and adds more contrast. Style with lazy I-woke-up-like-this hair like this babe did.




#Ways #Rock #Shirts #Dresses #FallFashion #Fashion