New Year's Eve is the one glamorous chance that everybody has to get fancy, drink champagne, and feel like an A list celebrity. While gals often focus on what dress will make heads turn that night, picking the right makeup look is equally (if not more) essential to completing your vibe.
Mirror eyes
Lady Gaga has rocked this ice queen look, and you can too. It's all about old school Hollywood glam meets futuristic glam, creating a silver look which is versatile with any outfit and adds subdued glitz.

Nude lip and smoky eye
A minimal, naked but glossy lip paired with a dramatic smoky eye will transform you into an Italian supermodel in no time. It looks classy, timeless and stylish, without all the tackiness of glitter.



Gold glitter eyeshadow
We suggest a liquid shade that glides on smoothly, like eye glitter from Stila Cosmetics. It will make your eyes sparkle like never before, and add warmth plus a dose of glam to your look.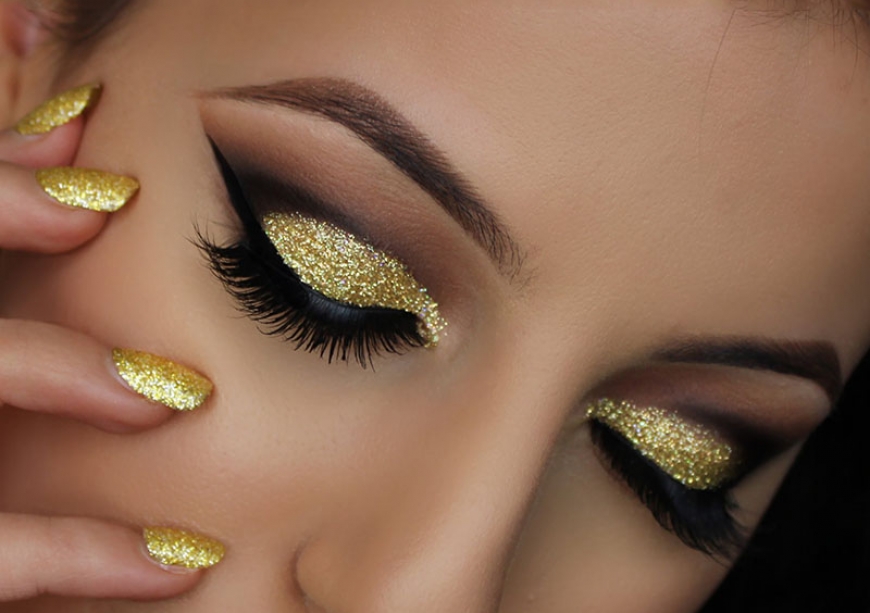 Gold highlighter
If gold eyeshadow is too bold a look for you, a shimmery gold highlighter is the subtle Kardashian boost you need to complement the high points of your face and make you bones really pop.

Matte red lip and toned down eyes
Glossy red lipstick is so predictable, but going matte elevates you to a high fashion aesthetic that will have people thinking you're a model. Pairing this with a toned down and subtle eye is the best way to go.



Shimmery purple cat eye
This look is dramatic and a creative alternative to the classic smoky eye if you want to try something that will make you stand out from the crowd. Pair with a subtle black liner and really blend the end of your wing.

Port wine lip and bold brows
This lipstick is similar to Burgundy, but has more of a romantic, purple-ash tinge to it that isn't quite Twilight, but has a dark, New York aesthetic that pairs perfectly with gelled up, brushed out brows.

Black glitter eyelid crease and matte black lips
Are you the queen of darkness, but you want to add a dose of glam to that goth? Go for a matte black lip and then with black liquid glitter liner, draw a thin line of glitter in the crease where your eye bone meets the lid.



Rose gold lip and rose gold smoky eye with highlighter
This rusty will make you look like a Victoria's Secret goddess. It's more of a subtle neutral than gold is, and provides that sun-kissed look with just enough shimmer and a bronzed, natural aesthetic.




#Makeup #Trends #Years #Eve #PartyBeauty #Beauty