Jacob Elordi might be relatively new to Hollywood but he's definitely got a huge following thanks to the Netflix original "Kissing Booth" where he played Noah the love interest and more recently his role on HBO's Euphoria has definitely spurred him on to new heights in terms of popularity. But we don't know much about him, so here are a few things you need to know about the talented actor.
1. Where is Jacob Elordi From
Jacob was born in Brisbane, Australia, so he is in fact Australian. That accent you've been hearing is 100% real and he really does sound like that. What is it with all these gorgeous hunks coming over from Australia and conquering Hollywood? What do they feed them in Australia that their men look like Jacob or the Hemsworth brothers? 
2. Jacob Elordi's First Role
Jacob's first role in a movie was an uncredited one but on a pretty famous movie. He was in Pirates of the Caribbean: Dead Men Tell No Tales, and while you won't find him in the credits, he's pretty easy to spot when you watch the movie. Look for a guy in a red jacket and a big hat. When it comes to actually credited roles that we expected him to be famous for — he was in Swinging Safari with Kylie Minogue and Guy Pearce.
3. Jacob Elordi Breakthrough
Weirdly enough Jacob's breakthrough role was that of Noah in Netflix's Kissing Booth. And after that, his role in HBO's Euphoria is what catapulted him into the realm of young heartthrobs that girls all over the world are obsessed with.
4. Jacob Elordi Girlfriend
Jacob used to date his co-star from Kissing Booth, Joey King. Looks like that romance wasn't all acting, after all, some of that chemistry was very much real. However, the two broke up in 2018. Since then he appeared to be single, but you know, the rumors about Jacob Elordi dating a certain co-star are very much alive. 
5. Zendaya And Jacob Elordi
Ever since Zendaya and Jacob appeared on screen together in Euphoria the rumors about Jacob Elordi and Zendaya dating were bound to happen. Jacob and Zendaya have been denying everything. Zendaya called him her best friend in a speech and Jacob has mentioned that she's like a sister to him, but the fans just won't let go of the idea. The two have been seen together in New York and LA, and they seem very touchy-feely with each other, holding hands, hugging, etc. But who knows, maybe they are just really close friends.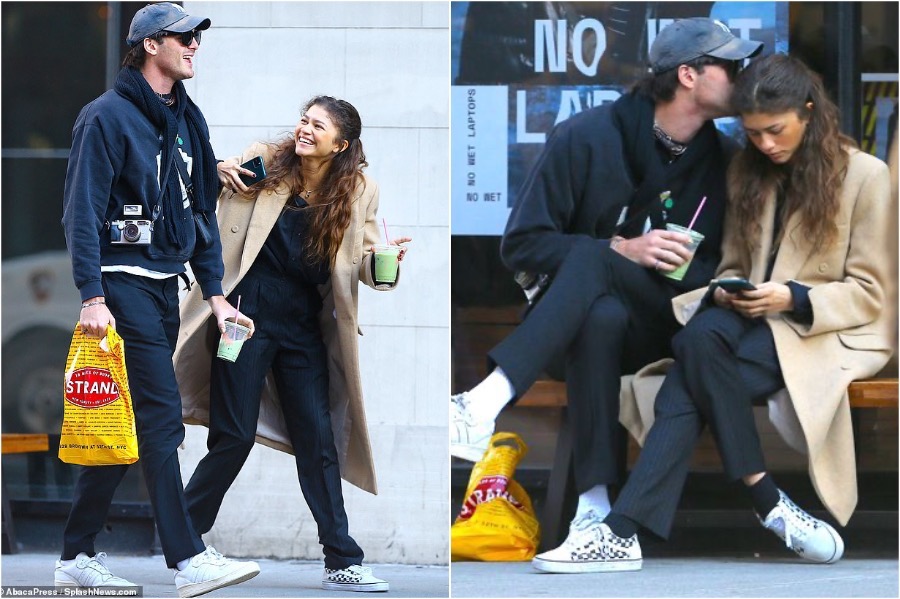 6. Jacob Elordi Zodiac
Many people are obsessed with horoscopes, zodiacs and astrological signs and how that can influence one's life and even their relationships including romantic ones. So in case you wanted to check if your and Jacob's astrological signs are compatible — he's a Cancer. You're welcome.
7. Jacob Elordi's Inspirations
Jacob loves old school actors like Marlon Brando and James Dean, but his ultimate hero and the dream co-star is Heath Ledger. He just absolutely loves the guy and says that in the moments when he wanted to throw in the towel and just give up on Hollywood — it was watching Heath Ledger and relating to his story that made him keep going. 
8. Jacob Elordi Has A Favourite Rom-Com
Can you guess what it is? It's 10 Things I Hate About You. Of course, it had to be that one, it's got his favorite actor Heath Ledger in it. Jacob says that even though it's cheesy and has a lot of cliches in it, it's the fact that this movie was kind of the original creator of cliches that make it special and the paintball scene is his absolute favorite romantic scene.
9. Jacob Elordi's Favourite TV Show
Jacob loves the American TV Show Supernatural. He says he watched almost all of the season but still has to catch up. He even collected their toys and merch when he first became a fan of the show. So you know, if you're looking to run into him perhaps a Supernatural convention is a good place to swing by.



#Surprising #Facts #Jacob #Elordi #DontEntertainment,Jacob Elordi #Entertainment