Sometimes we forget just how creative parents can be when they use their kids as inspiration. A stand-up comedian who goes under the nickname The Goose (real name Takafumi Ozeki) knows more about creativity than any other dad in the world. He loves his daughter so much, that he spends a few hours every day to prepare some really special lunch boxes for his kid. He started with the 'character bento' (kyara-ben in Japanese) and made his daughter's favorite TV and movie characters come to life in a small lunch box using vegetables, rice, and all kinds of decorations to create his artworks. But then he went even further! His daughter is the only little girl in the world who can boast eating her own drawings. That's right! Takafumi Ozeki takes his child's doodles and recreates them in real life. They are beyond adorable!
The drawing looks a bit like Pikachu, and bento looks exactly like the drawing!
Takafumi Ozeki can turn even a slightly scary doodle into something cute and funny.
Looking at these pics, don't you wish your parents also did something like this when you were a kid?
It seems all children like to draw cats. Just look at those facial expressions!
Is it Doraemon? Sure looks like him.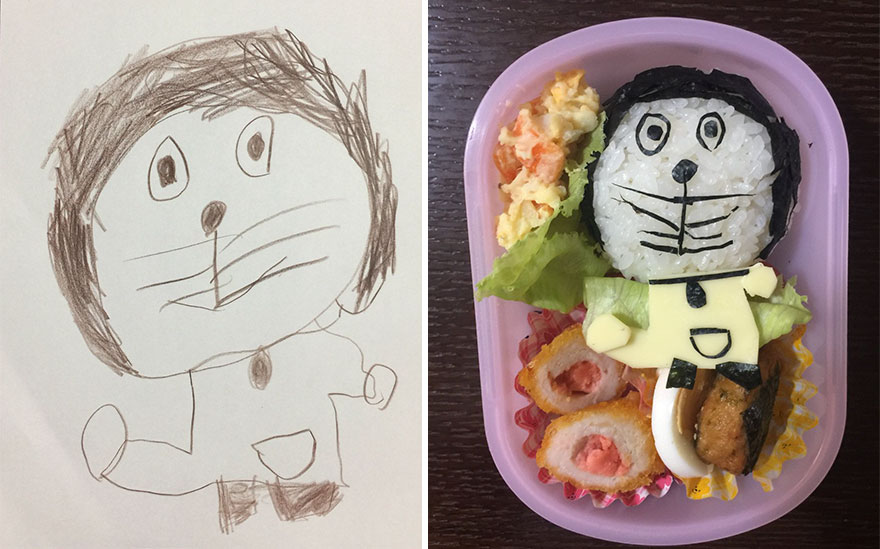 The cute cheetah and zebra turn this bento into a truly lovely work of art.
Looking at this drawing, it's hard to tell what kind of bird this is, but we know one thing – it's super adorable!
This bento looks like a page from a sweet kids' comic book.
We bet Takafumi Ozeki can turn his daughter's doodles into actual stories for kids!
Don't all girls dream of becoming princesses? This little lady even has a prince to keep her company.
A child's imagination can sometimes create wild things, but there's nothing Takafumi Ozeki won't do to please his daughter. He ended up with a cutest bento ever!
Yes, we admit the bento art is adorable, but what about that delicious food? It looks like a masterpiece!
Sweet simple meals prepared by a loving father – there's nothing better than that!
Look, even sausages have smiley faces! It makes the bento look beyond cheerful.
It's hard to tell what kind of creature this is, but it does look quite yummy!
A little masterpiece created especially for his daughter.
It's a froggie pond! Filled with fresh rice, egg omelette, and vegetables.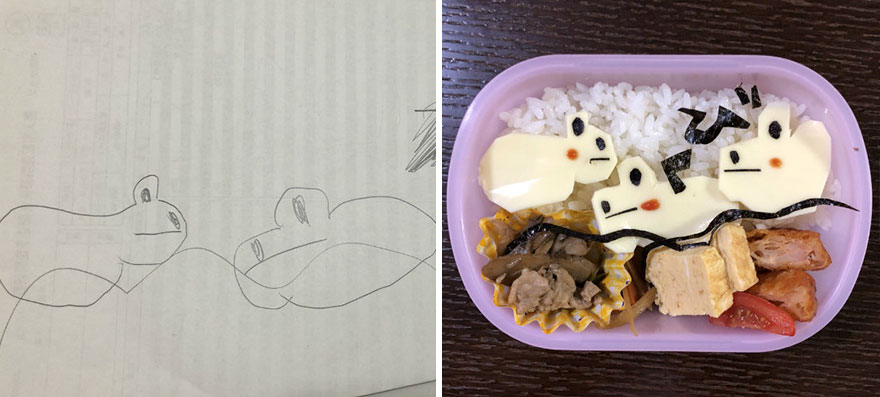 Is it a llama, a sheep, or a lion? Either way, it really brightens up the bento box!
Edible poop? Yes, please!
Kudos to this creative father and yummy bento boxes he creates every day. They look simply delicious.



#Japanese #Dad #Creates #Adorable #Meals #Based #Daughters #Drawings #LoveFood&Travel