We always try to do something fun with our nails in the summer months, but winter comes and we usually just go for reds and dark shades. There are so many beautiful winter designs out there that you can pick a new one every week, so here are a few we think you should definitely consider.
1. A classic black with a little sliver of gold is all you need to make your nails look cool yet elegant and classy.

2. What's more wintery than white and glossy nails. But just going with white is boring, so this version that looks like glossy marble is the way to go. The sparkly accent adds a frosty element too.

3. Doesn't this just make you think of snow and winter? Navy and white is such a wintery combination of colors and the design add a nice sparkle too.



4. Some weeks you might not want to mess around with complicated designs, and that's why we think nude with a little bit of metallic is a great way to add something interesting yet effortless.

5. How cool do those colorful stripes look on a pinky nude background? And make it matte for an even cooler effect.

6. This one is a bit complicated but a great reference to bring to your nail artist. It's definitely worth it, for a special occasion.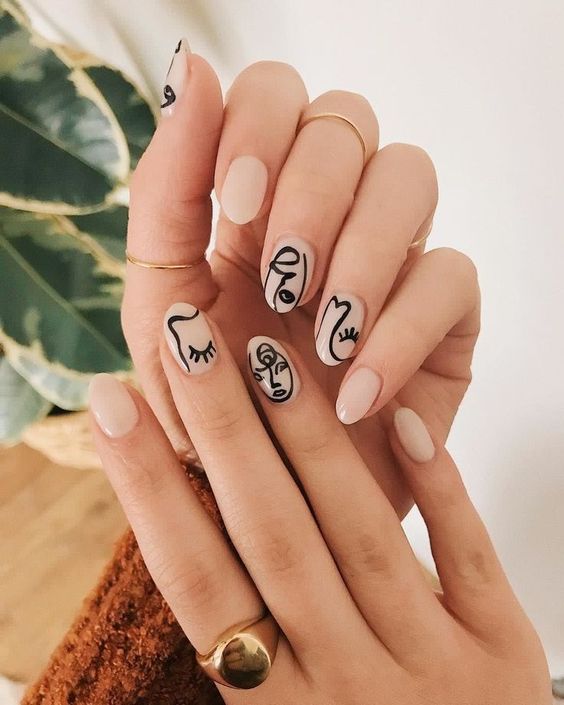 7. Sometimes you just need a bit of color in your life, and why not make it warm? After all, it's cold enough outside as it is, make your nails look cosy with a warm mustard matte polish.

8. Full marble nails are great, but even making the tips marble and adding some stripes is enough to completely transform your boring manicure into a work of art.



9. Nude, white and gold are always a good combo, and the little 3d gold accents elevate this nail design to a whole new level. It's a very royal look, don't you think?

10. Sometimes you just want understate elegance in your manicures and this look is here to deliver just that. It's not very attention grabbing at first but once you look closer it's incredibly beautiful and detailed.

11. Why not add some gems to your nails? I mean winter is the perfect time for a bit of glam and sparkle.

12. Minimalist will love this nails design. It's barely there, yet very distinct and cool looking. It looks chic and effortless and perfect for any occasion.

13. We strongly suggest this nail design. It's just nude and black swirls but they look so freaking elegant you just have to give it a try.



14. Another minimalist black nail design. Just wear all black and your nails will be you accessories.

15.We couldn't leave this one out. That reindeer accent nails is too cute not to include it in this collection of beautiful nail designs. Perfect for Christmas too!




#Beautiful #Nail #Designs #WinterBeauty #Beauty