Since
her marriage to Prince Harry, Meghan Markle hasn't stayed far from
media headlines. Many online publications have continuously followed
her integration into the royal family. And the closest person to
Meghan Markle, her mother Doria Loyce Ragland, has become a bit of a
superstar in her own right. She has been by Meghan's side as she's
moved through the public eye, and quite a bit is now known about
Meghan Markle's mother. To get the inside scoop on this graceful
woman who birthed the now Duchess of Sussex, check out these facts
about Meghan Markle's mother Doria Loyce Ragland. 
She
was present when Meghan Markle and Prince Harry were married. 
Meghan
Markle's mother Doria was the only person of her immediate family
in attendance at her wedding. This was to be expected as Meghan has
said she is very close to her mother. "We can just have so much
fun together, and yet I'll still find so much solace in her support,"
Markle told Glamour Magazine. "That duality coexists the same
way it would in a best friend."
Ragland
used to be a social worker. 
It's
not known for sure if she still works there, but at one point in time
Doria worked for Didi Hirsch Mental Services in Culver City,
California. Markle describes her mother as "a free-spirited
clinical therapist. She works specifically with the geriatric
community," Megan says. After earning her bachelor's degree,
Ragland pursued her master's of social work in 2011 from the
University of Southern California.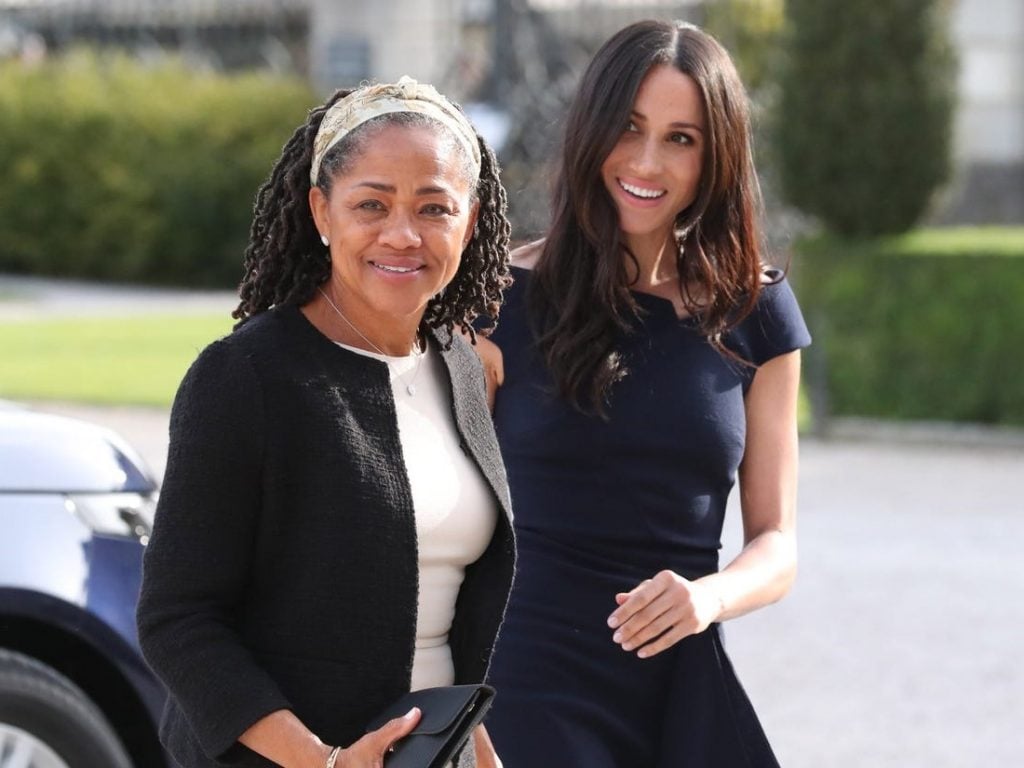 She
only has one child, Meghan. 
Meghan
Markle is Doria's an only child. She had Meghan with Tom Markle, but
the two divorced amicably when Meghan was six years old. She saw her
father regularly after the divorce, but lived with her mother full
time. 
She
is a free-spirit. 
According to Markle, her mother is not only a social workerk, but a yoga teacher too. She's even done yoga with Oprah. She was spotted in 2018 leaving Oprah's house – six hours later, it was discovered that the two had a fun-filled day of lunch and yoga. On Markle's former lifestyle blog called The Tig, she wrote an ode to her mother, describing her with the following: "Dreadlocks. Nose ring. Yoga instructor. Social worker. Free spirit. Lover of potato chips & lemon tarts." Doria even gave her daughter Meghan the most adorable hippie-inspired nickname: Flower. 
Doria
helped plan Meghan and Harry's royal wedding. 
Sources say that Meghan Markle visited her mother in LA to plan her wedding to Prince Harry. She came with sketches of the wedding to share with Doria, so she could really show her exactly what she wanted, sources say. It was also confirmed that Doria later traveled to London a few days before the wedding to aid in pre-wedding prep and to meet Meghan's royal new in-laws. She almost had the responsibility of walking Meghan down the aisle, since her father Tom Markle wasn't in attendance. Doria's wedding attire turned heads at the ceremony, sporting a mint green dress and coat by Oscar de la Renta.  



#Meghan #Markles #Mother #Doria #Loyce #RaglandEntertainment,Meghan Markle #Entertainment