What's your idea of a romantic proposal? Does it involve getting down on one knee? Or perhaps you imagine it happening in a fancy restaurant? Does it involve flowers, dessert, champagne, a huge diamond ring? Have you even thought about how and you'd like to be proposed? Former Swedish Olympic diver Jimmy Sjödin did not see it coming, but we bet you'll find the story of how his boyfriend proposed to be incredibly sweet and romantic.

Jimmy Sjödin lives in Munich with his German boyfriend Patrick, who's a bodybuilder. They've been together for just over a year, when Patrick decided to pop the question. But we're guessing it wasn't a spur of the moment decision and Patrick must've secretly planned this out long in advance. One day in July Patrick and Jimmy went on a roadtrip, however, Patrick wouldn't tell Jimmy where they're going.

Eventually they arrived in Venice, which already was a dream come true for Jimmy, because he always dreamt of going there, and here they are, having a little trip together as a couple. It gets better. They get on a gondola, to have a romantic boat ride through Venice. The city is beautiful, they're having a lovely time, and this is the moment Patrick whips out the ring and proposes. Jimmy was totally surprised and of course he said "yes". He says he had no idea or clue that this could or would be an engagement trip. What's even cooler, is that Patrick arranged to have a photographer with them, who caught the entire thing on camera, so the happy couple will always have those pictures to remember this awesome day.



The wedding is planned for May of 2018, in the German Alps, on the day that will mark their 2 year anniversary.

Look at how they're just glowing with happiness.

The rings, shining in the Venice sun.

You can see how Jimmy was totally caught by surprise.

Oh just kiss already 🙂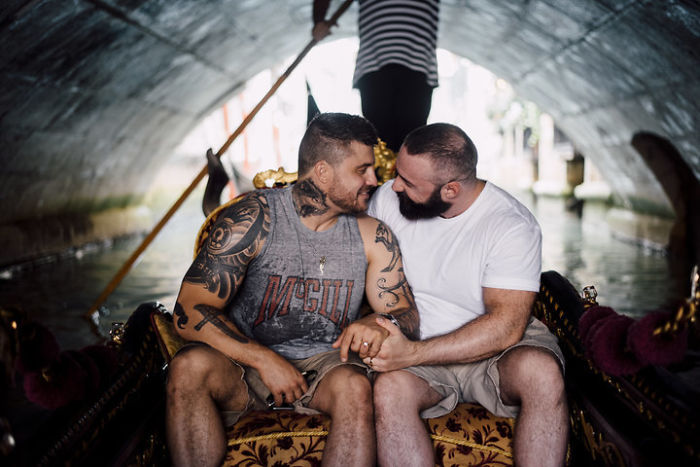 We wish this sweet couple all the love and happiness in the world.




#Sweetest #Engagement #Story #Olympic #Diver #BodyBuilderLifestyle #lifestyle