Even though summer is leaving us quick and being replace by chilly nights, we can comfort ourselves with the reminder that cozy hot foods will return, and hearty harvest meals. Say goodbye to berries and hello to sumptuous pasta dishes and coveted fall pie recipes. These will warm your soul up from the inside out, we promise.
Sweet Potato, Leek & Coconut Soup With Puffed Quinoa
Remember the ol' potato and leek soup classic? Yeah, it's delicious, but it's also not great for your waistline or digestive system, due to the buckets of heavy cream poured into it. Replace it with this sweet potato, coconut and leek soup which is just as rich and addictive!

Roasted Potatoes with Apples, Sausage and Maple Mustard Glaze
Sweet and savory has always been a Fall staple – cranberry sauce and turkey, anyone? But this roasted potato dish is truly brought alive with the addition of apples, sausage, and a maple mustard glaze. Everyone will be reaching for thirds.



Thai Red Curry Chicken Meatballs
We love when cooks get creative with cuisines and create a hybrid that actually works! This Italian-Thai fusion dish blends a meatball classic with a decadent sauce (made with ginger, red curry paste, and coconut), and you can cook it all in one skillet.

Vegan Meatballs
Don't worry vegans, we know those meatballs look nom-worthy, and we have a counterpart for you that really holds up. Unlike other vegan meatballs which disintegrate in tomato sauce, these seitan babies keep their shape, with the help of mashed potato and white beans inside of them. Even carnivores will want to try these out.

Spicy Garlic Spaghetti in Broccoli Cheese Sauce
If broccoli and cheese is the idea of heavenly comfort food to you (it takes us all back to our childhoods), then pairing it with spicy garlic spaghetti will practically make your eyes roll back in your head! Trust us, it's anything but bland.

Gnocchi alla Sorrentina
Gnocchi or baked ziti? The tough decisions in life! Luckily, you don't have to choose between the two – soft white mozzarella and sauce blends with pillow, melt in your mouth ziti for a dish that is difficult not to inhale in seconds. How do cheese, potato, and tomato taste so darn good?



Mexican Grilled Chicken Cobb Salad
Salads don't have to be a bummer – forgot the sad, limp arugula that you order on a first date, and build this colorful behemoth of a salad which won't leave you hungry. Bye Chipotle, this is our new Mexican go-to – and it's even healthy!

Bourbon Peach BBQ Baked Beans
Normally, when you think of baked beans, you think of a sad British side dish that accompanies a soggy potato and some eggs. This is an amazing way to say a farewell to summer – infuse your beans with peach and bourbon, and serve them with an entree of your choice!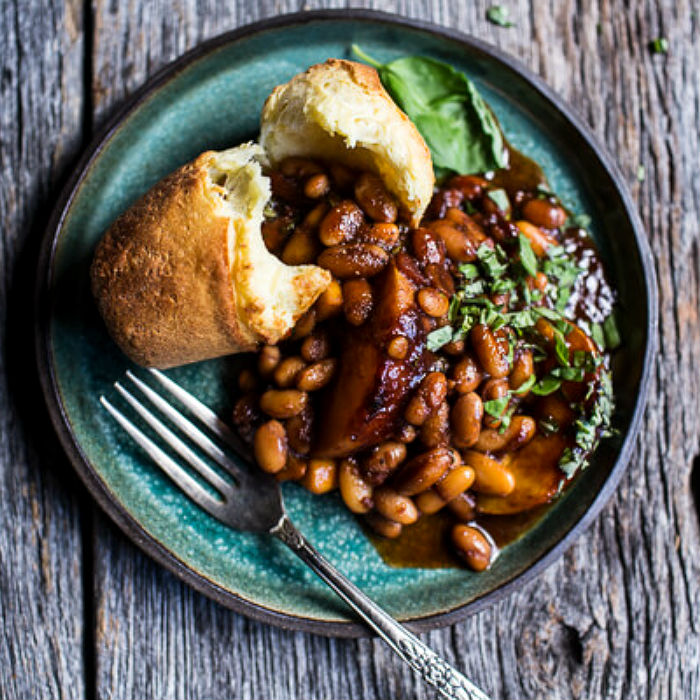 Concord Grape Pie
Blueberry pie is a classic comfort food, but since it's back-to-school season, why not update that tradition by swapping them out for another vibrantly hued fruit – grapes! And it comes from someone called the Grape Pie Queen of Naples who lived in New York, so we have to pay homage to her.



Baked Apple Cider Donuts
We had to give you guys a second dessert option to wash down all our yummy savory recipes, and these baked apple cider donuts seem like the perfect, light way to usher in the changing leaves. Down 'em with a nice hot mug of mulled apple cider to really get the full effect.




#10Delicious #Cook #SeptemberFood&Travel