Once upon a time, when you ordered a coffee, your options were sugar and milk. But today, Starbucks is changing the way we drink coffee by adding an extensive list of flavors. These flavors can be used to create some unexpected mayhem, and we mean that in the best possible way! With that, we bring you a list of the 10 best drinks you can order from the Starbucks secret menu.
1. Dragon Frappuccino
When Starbucks introduced the Unicorn Frappuccino, the coffee-loving world absolutely flipped out. But were you aware of the secret and mysterious Dragon Frappuccino? You are now! It is a green tea Frappuccino mixed with vanilla bean powder and berry cup swirl. Order one and become your own Dragon Queen or King!

2. Butterbeer Frappuccino
Maybe dragons aren't your thing. But what about wizards? The Butterbeer Frappuccino combines your two favorite places: Hogwarts and Starbucks! Start with a Creme Frappuccino base then add 3 pumps of caramel syrup, 3 pumps of toffee nut syrup and top off with caramel drizzle. Oh, and make sure to ask for whole milk as it provides the right consistency that skim and 2% would lack.



3. Cake Batter Frappuccino
Say, what could be better than celebrating your birthday? How about celebrating it everyday! When you order a Cake Batter Frappuccino, it will pretty much create the same effect. It is essentially a vanilla bean Frappuccino with almond flavoring added. A simple concept, but no less amazing. If that particular Starbucks doesn't have almond flavor, you can either request hazelnut or just visit one of the million other Starbucks in your area until you find what you are looking for.

4. Pumpkin Chocolate-Chip Cookie Frappuccino
Is there anything more awesomely insane than combining a pumpkin spice latte with the flavor of chocolate chip cookies? Perhaps, but that's for another article. When you request a Pumpkin Chocolate-Chip Cookie Frappuccino, you're getting a beverage that includes Pumpkin Spice Crème Frappuccino, mocha sauce, java chips and a couple pumps of cinnamon dolce syrup. Make it happen!

5. Tiramisu Frappuccino
Are you sad because the Tiramisu Frappuccino is only available in Japan? Then we have some good news: you can actually order one no matter where you are in the world if you know how to ask! The recipe includes Coffee Frappuccino mixed with hazelnut syrup, toffee-nut syrup, caramel flan syrup and mocha syrup. Top it off with caramel whipped cream, caramel flan sauce and mocha drizzle. You're ready to enjoy without having to buy a plane ticket to Tokyo!

6. Twix Frappuccino
Candy bars are already the greatest, so imagine drinking a coffee version of Twix to start your day off right! Okay, so it isn't officially Twix, but you won't be able to tell the difference. It starts with Caramel Frappuccino and adds a couple pumps of hazelnut syrup, java chips, whipped cream that has been blended in, a coating of caramel sauce and topped off with mocha drizzle. Yum? Yum!



7. Mermaid Frappuccino
Bad news: Mermaids don't actually exist. Good news: Mermaid Frappuccinos do! The recipe sounds impossible, but we assure you it can be done. The base is a Vanilla Bean Frappuccino with freeze dried whole blackberries. Next, a green drizzle consisting of white mocha sauce, toasted coconut syrup and three scoops of matcha is mixed together and lines the cup. Top with whipped cream and live your mermaid dreams.

8. Banana Cream Pie Frappuccino
If you managed to conquer the day, there is no better reward than a Banana Cream Pie Frappuccino. It consists of a couple pumps of vanilla syrup, hazelnut syrup and an entire banana blended in. Add some whipped cream on top and enjoy coffee and a decadent dessert in one fell swoop!

9. Raspberry Cheesecake Mocha Frappuccino
Continuing with the theme of dessert Frappuccinos, you cannot go wrong with the Raspberry Cheesecake Mocha Frappuccino. The base is a White Chocolate Mocha Frappuccino with a couple pumps of Raspberry syrup. It is nothing complicated, but sometimes the best pleasures in life are the simplest.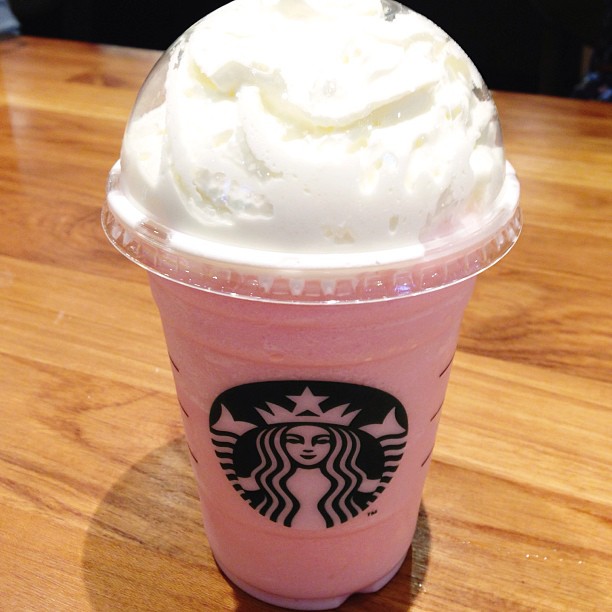 10. Narwhal Frappuccino
Unlike mermaids and dragons, narwhals are an actual thing. And so is the Narwhal Frappuccino. It begins with blended strawberry lemonade with vanilla bean powder added. Add whipped cream and green tea macha powder on top and you have a refreshing beverage that can be enjoyed on a pleasant, warm day!




#Drinks #Starbucks #Secret #MenuFood&Travel