Wedding is one of the most special days in a couple's life, so it's only natural to spend it in a picturesque location that is both exotic and visually stunning. It will probably be more expensive, but there are some locations that are relatively cheap, while still offering amazing sceneries as well as help in organizing a perfect wedding. And once all the ceremonies are over you and your loved one can relax in the most tranquil setting and slowly ease into your honeymoon. Because why go somewhere else if you are already in the most beautiful place on Earth? Here are 10 exotic wedding locations that will take your breath away.
Bahamas
Consisting of more than 2,000 versatile islands, Bahamas are a paradise for snorkelers, divers, dolphin lovers, and everything in between. If you are looking for a place with a distinct Caribbean feel but not so far away from home, the Bahamas are your number one choice. There are bigger islands with vibrant nightlife and rich culture where you can visit some high-end restaurants and stay at luxurious hotels. Located on the Providence Island, the One&Only Ocean Club offers the atmosphere of Versailles' terraced gardens and a posh private estate that has everything one might need for a perfect wedding.

Mexico
Not many people consider Mexico a wedding-worthy destination, but that's where they are wrong. With its close proximity to the United States, rich culture, amazing cuisine, and some of the most picturesque historical sites in the world, Mexico can become a truly unforgettable wedding destination for any couple. Head to Cozumel, Acapulco, Riviera Maya, Cancun to enjoy the vibrant culture of the country, and don't forget about the white-sand beaches that stretch for miles on the Gulf of Mexico and the Caribbean Sea.



Kauai
We can't speak about exotic wedding destinations and not mention the magical Hawaiian Islands. Kauai is one of Hawaii's smallest islands, which still has the laid-back vibe of 'old Hawaii'. Not only do you get to see the most pristine beaches in the world there, but you will also visit breathtaking waterfalls, the awe-inspiring Na Pali Coast, and the amazing Waimea Canyon. The Grand Hyatt Kauai Resort and Spa is one of the go-to places if you want to plan an elegant, yet exotic wedding ceremony.

Caribbean
There's hardly a more romantic wedding spot than the islands of the Caribbean. With so many islands to explore, it's easy to get lost, but whatever you choose – it'll still be worth it! Look into what St. Luca, Turks and Caicos, St. Martin, the Cayman Islands, and the US Virgin Islands have to offer – there are plenty of options that include beach weddings and wedding ceremonies in secluded exotic spots. Grand Cayman Marriott Beach Resort is one of the busier places, but it has a beautiful beach at its disposal, as well as bars and restaurants to entertain your guests.

Jamaica
This sun-loving country has been hosting intimate far-away-from-home wedding for years before it even became a trend. Couples are still drawn to Jamaica's gold-sand beaches and lush nature with mountains and waterfalls hidden deep in the jungles. Almost any hotel in Jamaica will gladly host your wedding with a variety of options for garden and beach events. You can also use the services of a more serious wedding provider like Sandals with its famous Weddingmoonds program that will have all the necessary details covered for you in no time.

Italy
With its ancient cities, delicate cuisine, and truly exquisite culture, Italy offers a wide range of versatile wedding spots that will take your breath away. Head to Isle of Capri and Lake Como for an unforgettable romantic getaway, explore the works of Botticelli, Michelangelo, and Raffaello in the Uffizi Gallery in Florence, enjoy the dazzling beauty of Colosseum in Rome, and don't forget to visit the charming web of water canals in the gorgeous city of Venice. Follow the steps of Casanova and spend a few nights in the luxurious Hotel Cipriani with spectacular views of the city.



Costa Rica
If you like rain forests, cute monkeys, long hikes, and all kinds of water activities, then Costa Rica is your perfect wedding destination. With its azure waters and warm sandy beaches, you will completely forget about the rest of the world. It's an ideal place for an intimate wedding ceremony, but for 5-star service you should check out the Four Seasons Costa Rica Hotel at Peninsula Papagayo. It has a long history of organizing romantic travels, wedding ceremonies, and eco-adventures. You can turn your honeymoon into a gorgeous eco-retreat with organic food and spa treatments every day!

Bermuda
If you aren't mesmerised by white-sand beaches, then how about pink ones? Bermuda's nature is lush and beautiful – you will get to explore cliffs, dive into turquoise waters, photograph the mysterious-looking limestone caves, and try the lush golf courses that will surprise even the pros. Travel to Hamilton and St. George cities to explore some quaint English pubs, or head to the Southampton where you can enjoy full wedding packages at the Reefs Resort & Club. Their circular-shaped moon gate is one of a kind!

Bora Bora
Four Seasons Bora Bora is a place where all your wedding dreams will come true. Don't even think about spending your honeymoon somewhere else – after the ceremony at the picturesque Aherenoa Chapel at the edge of the lagoon is over, you will want to spend days, if not weeks, at this spectacular location overlooking the dreamy peak of Mount Otemanu. You can even organize a wedding aboard a catamaran!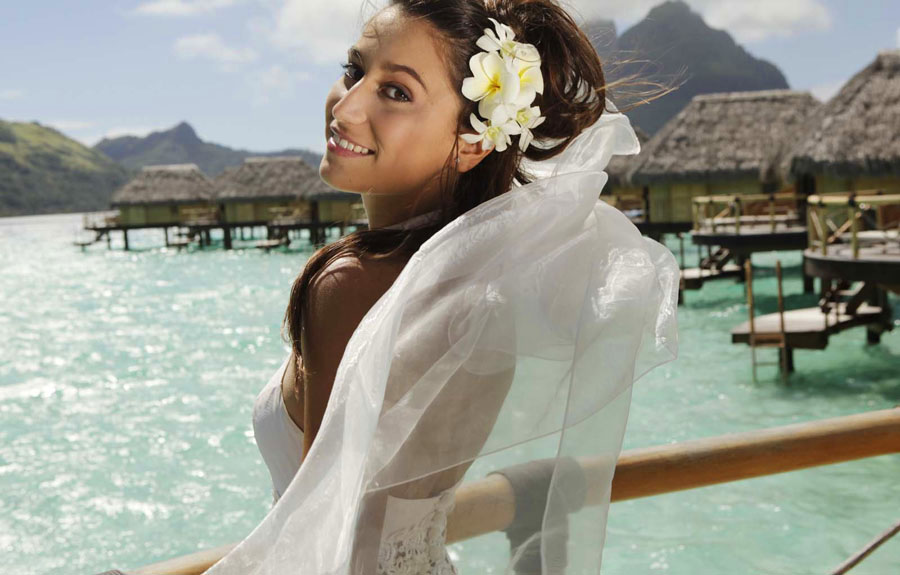 Bali
When it comes to weddings, nothing can quite compare to the serene atmosphere of Bali. This Indonesian island is packed with natural wonders like the Blue Lagoon Beach and the Mount Batur Volcano, along with ancient temples, vibrant rice terraces, colourful culture of Ubud, its world famous Art Market, and numerous secluded resorts that will host the most memorable wedding for you and your spouse. Head to the Ritz-Carlton Resort to experience a lush tropical wedding with unforgettable outdoor adventures.




#Magnificent #Luxurious #Exotic #Locations #WeddingFood&Travel