Megastar
Kylie Jenner wowed her fans for this
Halloween
when she revealed who her 1-year-old Stormi dressed as for Halloween:
Kylie! Stormi dressed up as her mother, adorned in a mini size
version of Kylie's ensemble from the 2019 Met Gala. Daughter of
Kylie and rapper Travis Scott, the adorable 1-year-old was covered
from head to toe in purple feathers and hair, and appeared to truly
love her costume.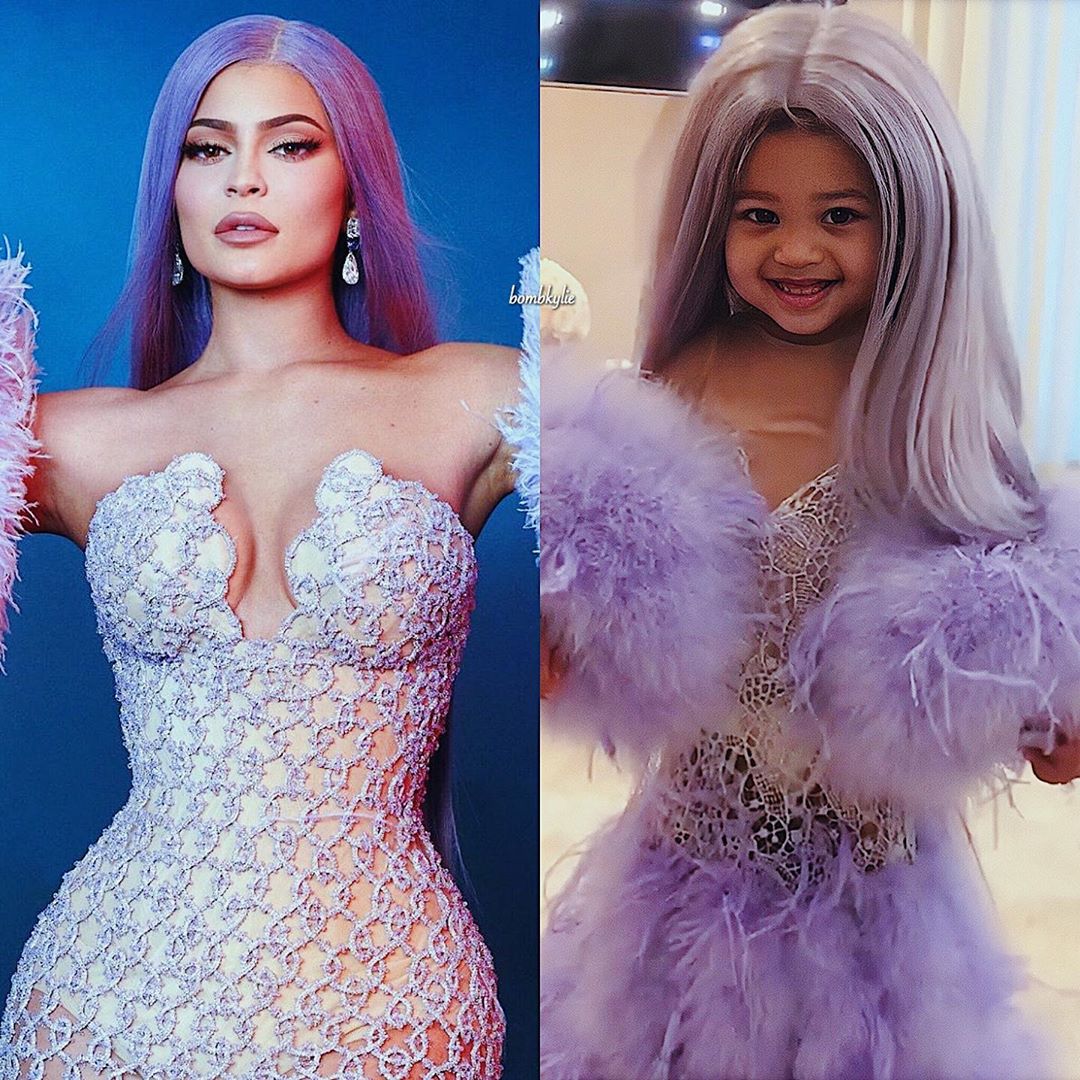 Kylie's
original Met Gala dress was very intricate and a one-of-a-kind
creation. It included a Versace mesh gown made of crystals and
ostrich feathers. According to sources, Versace's designer
seamstresses worked by hand on this stunning original piece for 30
days. As complicated as Kylie's original gown was, Stormi's
version was a near replica, complete with a a mini but almost
identical mesh crystal bodice, purple wig, and sleeves covered in
dainty, purple feathers. Her look was complete with a purple
bejeweled handbag. 
Wanting
to remain out of the spotlight, Kyler originally kept her pregnancy
with Stormi a secret. With the help of family and friends, she was
able to successfully hide her pregnancy for the full nine months. She
revealed her newborn baby's existence after giving birth. Since
showing off her newborn to the world, Stormi has become a bit of her
own celebrity. There are multiple fan page accounts on Instagram
following the journey of Stormi Webster, many with tens of thousands
of followers. At just one years old, Stormi is already proving that
she has the star power to follow in the footsteps of the
Kardashian-Jenner family, and create a huge following of fans and
popularity. 
This
isn't the first time Stormi and Kylie have dressed alike for
Halloween. Last year, the two dressed up as twin butterflies, both
sporting pink and black butterfly wings and pink outfits. Kylie
posted a super cut pick of the two in their butterfly outfits on
Instagram with the caption: "my baby butterfly." That post alone
had almost 12 million likes and over 74,000 comments on Instagram. 
Kylie's latest post showing off Stormi dressed as her father Travis is totally adorable as well. This shot is already gained 6000 likes and lots of comments on Instagram. She received comments of praise from many celebrities with verified Instagram accounts. Cassie Ventura commented, "OMG I can't," and Chanel Iman replied, "Ohhh I love it, She's adorable." Other celebs who commented include Donatella Versace, Vanessa Hudgens and many more. 
But
maybe the cutest of all, Stormi's dad Travis Scott left a simple
but adorable red heat emoji to show his support of his daughter. This
isn't surprising as many sources verify that Kylie says Stormi is a
huge daddy's girl, and loves spending time with her father.



#Stormi #Webster #Dressed #Mom #Kylie #Dad #Travis #Totally #AdorableEntertainment,Kylie Jenner #Entertainment