All over the world, there are exquisite houses of worship that don't just have religious and spiritual significance – they're aesthetically works of art in their own right. No matter what your religion is, it's hard to deny the majestic beauty of each and every one of these sites of worship.
1. Meenakshi Amman Temple in India
India is known for doing things vibrantly, and it's no different with their Temples. Composed of thousands of colorful statues of deities, animals, and demons, this place of worship is really a piece of art. The 10-day long Chithirai Festival is celebrated here to honor the marriage of Meenakshi to Sundareswara, a divine marriage that is the most important in Hindu culture.

2. Paro Taktsang Temple in Bhutan
This temple must be a mission to get to – it's located on the side of a rocky, 10,000 foot cliff, above a majestic waterfall! It's know as the tiger's lair, and when you see it, it's easy to see why it got that nickname. It's apparently the holiest site in Bhutan, an many people have spiritual awakenings of sorts there – it can even be reached by foot!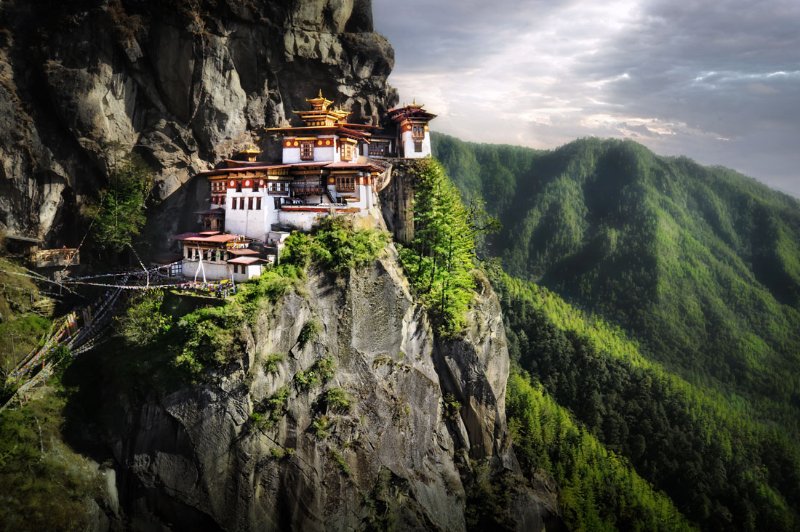 3. Saint-Pierre Church in France
The architecture on this church in France is a little more contemporary – it was designed by the famous Le Corbusier, a revolutionary Swiss-French icon in contemporary architecture. Alas, the actual church was only completed 41 years after his death, in 2006. The space is massive and although it was a place of worship, it houses mostly cultural events nowadays.

4. St. Basil's Cathedral in Russia
There's nothing more beautiful than this eye-catching and majestic cathedral on a blue summer day. It's located in Red Square, in Moscow. Today it's more of a national landmark and sight-seeing destination than an active cathedral, and it was actually built by Ivan The Terrible.

5. The Hassan II Mosque in Morocco
This mosque in Casablanca, Morocco is definitely one of the more attention-commanding mosques we've ever seen. It's the largest in all of Morocco, and 7th largest ever, with a minaret standing at 689 feet. Wow! The dreamy teal colorscape and it's picturesque placement on a promontory gazing upon the Atlantic Ocean make this one of the most beautiful houses of worship we've ever seen.

6. St. Michael's Golden-Domed Monastery in Ukraine
This regal and functioning Monastery is recognizable by its stunning golden domes (it didn't get that brilliant without a bunch of renovations over the years – this structure was rebuilt post-independent in '91 but the gorgeous marriage of blue and luxurious gold make this one of the most striking destinations that you need on your bucket list.



7. Saint-Michel d'Aiguilhe Chapel in France
You might wonder if it's even possible to get to this awe-inspiring chapel perched on top of a volcanic needle that stands out distinctly from the rest of the area. Built in 959, it was originally where the Via Podiensis pilgrimage route started. And yes, the route is miraculously still used today!

8. Cathedral of Brasilia in Brazil
Brazil likes to shake things up by being loud and in your face, and this totally bizarre but amazing cathedral proves that like nothing else. The powerful structure has a unique hyperboloid shape that almost looks like a bunch of boomerangs in a circle. Inside is an even more majestic sun-drenched space, filled with streams of green, blue, and cream meander on the ceiling and walls, with steel-cable suspended angel statues floating above you. Simply other-worldly.

9. Sheikh Zayed Grand Mosque in Abu Dhabi
Dubai is known to being the epicenter of lavish luxury and wealth, so it only makes sense that their mosques would reflect that. It's inexplicably huge, and shaded a blindingly pure white, made of Grecian Sivec white marble. Delicately colorful accents appear in the courtyard and inside, offering a striking contrast. The mosque is adorned in natural luxurious materials like 24k gold, amethyst, lapis lazuli and more.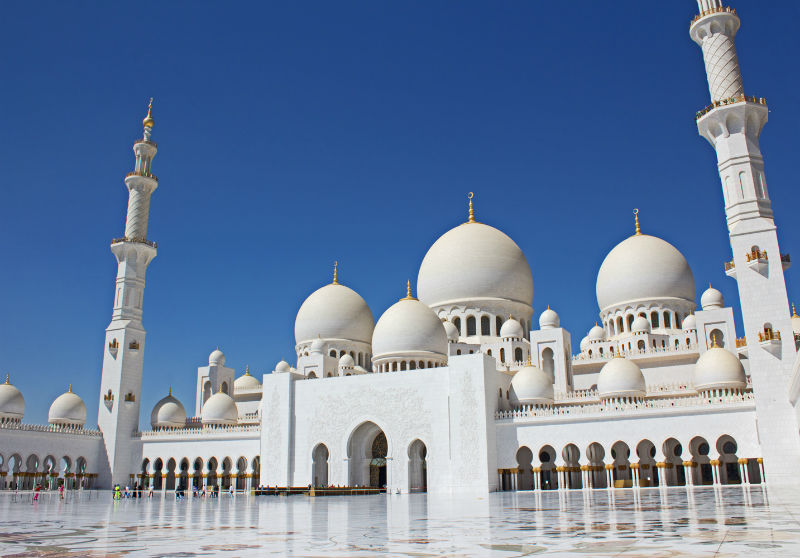 10. Phraya Nakhon Temple in Thailand
Your eyes aren't fooling you – this is literally a temple located underwater, inside a hidden cave. This place seriously looks like a scene from Atlantis, and it's located inside a marine national park. By far one of Thailand's most photographed destinations, this temple built in 1890 is a pretty difficult cave to reach. Seems like the reward is definitely worth it, though!




#Beautiful #Churches #Temples #Mosques #WorldFood&Travel