Is there anything better on a hot summer's day than a cold sweet milkshake? Yes! An extreme milkshake. What is an extreme milkshake I hear you ask? It's a milkshake taken to a whole new level. Don't expect this to be healthy or good for you. It's probably gonna give you a sugar rush or send you into a sugar coma, but hey, once you see these extreme milkshakes you'll know it's totally worth it.
1. Extreme Milkshakes by AlanaBread
Let's start with truly extreme milkshakes, shall we? Why limit yourself to just whipped cream as a topping when you can put 5 donuts on top of your milkshake? Go the extra mile and shock your body with a mix of sweet and savory flavors by topping a milkshake with a massive extreme burger or a whole roasted chicken.

2. Milkshakes by XSespresso
Double the childhood nostalgia by adding a Kinder Surprise on top of the milkshake. And top it off with some cotton candy and a generous helping of sprinkles. This milkshake is basically your childhood in a mason jar.

3. Fluffy Magic by BlackTap
Speaking of cotton candy, it's the perfect topping for your fluffy milkshake. Especially if it's arranged in pastel rainbow cloud and decorated with lots of sweet candy. That combo should be enough to satisfy any sweet tooth.



4.Oreo & S'mores "Everything" Milkshake by ForkToBelly
Be careful what you wish for, because next time you say "give me a milkshake with everything" you might just get what you ask for. Fork To Belly's milkshake has both oreos, s'mores, chocolate, ice-cream and biscuits in it. What else could you possibly need?

5. Not Your Mother's Milkshake by roseblvd
You might think these milkshakes aren't as extreme compared to the others, after all they just have one donut on top, but what you don't know is that they have a generous amount of both white and milk chocolate in them, not to mention the obscene amount of sprinkes.

6.Crazy Tim Shakes by Arnotts
Have you tried Tim Tams? These incredible australian chocolates are truly a delicious treat. They're great on their own, but once you put them into your milkshake you'll never want to go back to your regular milkshake. You'll want Crazy Tim Shakes every day.

7.Decadent S'mores Milkshakes by ASideOfSweet
Graham crackers, Hershey's chocolate, chocolate syrup and perfectly toasted marshmallows make these decadent milkshakes the perfect treat after a long summer day. If you haven't tried these yet – you're missing out.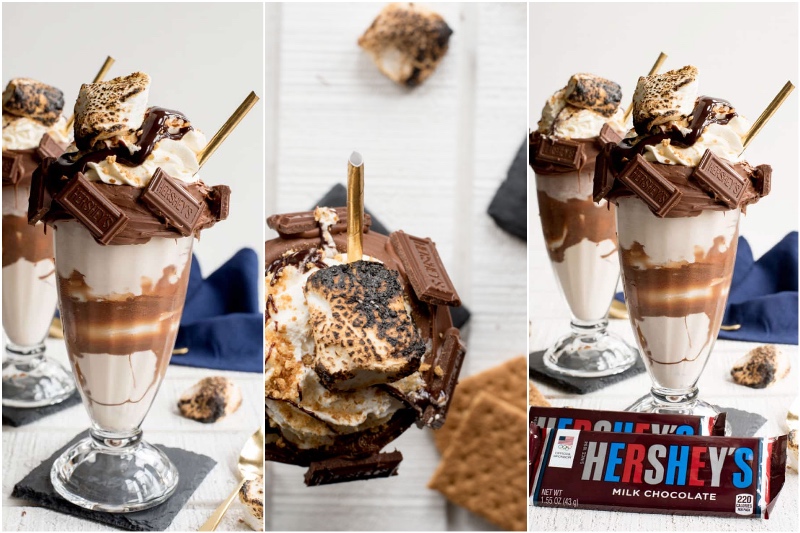 8.Copycat Canberra Freakshake by Domino
Have you ever tried putting nutella in your milkshake, because that, my friend, is a game changer. Pairing it with salty crunchy pretzels gives you the best flavor combo ever. Try it, you won't regret it.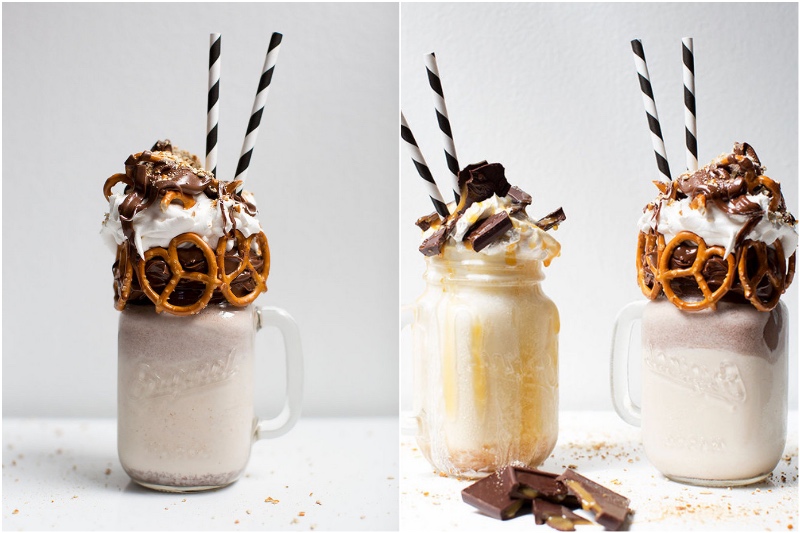 9. Ultimate Strawberry Milkshake by TheLuckyPear
What girl doesn't want a lovely pink strawberry milkshake? Especially when it's loaded with pink strawberry wafers, pink mini donuts, lots of candy and pink sprinkles. Some might say it's pink overload, but we think it's just the right amount to make a girl happy.



10.Funfetti Brownie Mocha Milkshake by TheFirstYearBlog
So not only does this milkshake taste like a brownie, it also has a full cupcake as a topping. I mean, who said you can't have a brownie and a cupcake at the same time? You only live once, treat yourself!

11.Over The Top Milkshakes by Craftsy
Craftsy has a lot of ideas when it comes to extreme milkshakes and it's hard to decide which one is the best. Their peanut butter pretzel milkshake has the best combo of sweet and salty flavors, the birthday cake shake is guaranteed to brighten your day both in terms of color and taste, and their chocolate coconut kahlua shake is basically happiness in a glass.

12. Happy Holiday Neapolitan Extreme Milkshakes by PoppyTalk
Everyone knows that extreme milkshakes are all about the toppings. The more donuts you can load on top – the better. So these happy holiday neapolitan milkshakes are a must on a list of extreme milkshakes to try.

13.Crazy Awesome Milkshakes from AwwSam
Sam has quite a few milkshake recipes to choose from, but we gotta say, the one with glazed donuts definitely wins in our humble opinion. It's got chocolate syrup, caramel syrup, whipped cream, chocolate bar chunks and glazed donuts. You'll probably get a yearly supply of sugar in one milkshake, but hey, sometimes you gotta do what you gotta do.

14.The Ultimate Brownie Crazy Milkshake by KevinAndAmanda
This milkshake is heaven in a glass for chocolate addicts. Not only is the milkshake chocolate, but it also has whipped cream, nutella, brownies, oreos, an ice-cream chocolate chip cookie sandwich and chocolate syrup on top. Oh yeah, the amount of sugar and chocolate in this milkshake is borderline dangerous.



15. Salted Pretzel Nutella Fudge Milkshake by HalfBakedHarvest
Who wants cherries on top of their milkshake if you can have nutella fudge with pretzels? This salted pretzel nutella fudge milkshake takes desserts to a new level with both flavor combination and just how incredibly satisfying it looks.

16. Sprinkle Donut Chocolate Milkshake by Picky-Palate
If you think this milkshake is all about donuts, you're only seeing the top of the iceberg. There's more to this milkshake than meets the eye. The milkshake itself has hidden ingredients which include lots of chocolate ice-cream, crushed oreos and peanut butter. Yumm!




#Extreme #Milkshakes #Youll #SummerFood&Travel