Makeup is amazing and for some people there's nothing better or more fun than putting on a full face of makeup and leaving the house looking flawless. For others it might be a bit of a struggle. Raise your hand if you love the idea of makeup, but you just struggle to blend your eyeshadows properly, your wings are always wonky and the thought of contouring makes you anxious because you know you'll end up looking like you have dirt on your face. Yeah, me too. That's why today we're going to share with you some makeup tricks that will make your life easier.
1. Thicker Eyebrows
If you want those thick, lush eyebrows like Cara Delevingne, but you struggle to grow them out and you can't muster drawing them on everyday – coconut oil might become your best friend. Apparently, if you rub coconut oil into your eyebrows on the daily basis and leave it on for 30 minutes – your eyebrows will grow thicker and can even turn darker.

2. Perfect Wings
If you struggle with eyeliner, I hear you. Doing wings that match or creating symmetrical cat eyes with liquid eyeliner can take hours and still you'll be left with something that's just "good enough", not "perfect". But there's a trick that can make it easier. Just use pencil eyeliner to create the shape you need and then put liquid eyeliner on top.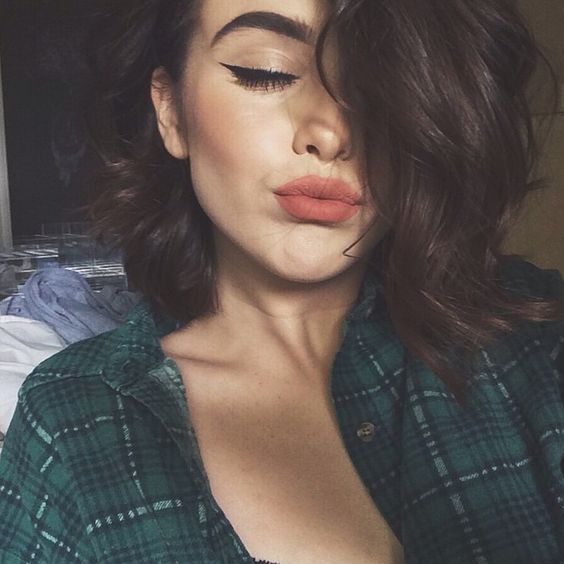 3. Pouty Lips
If you want your lips to look soft, supple and pouty, but you can't be bothered with buying or making a lip scrub – there's an easy alternative. Just use your toothbrush to brush your lips after you're done brushing your teeth. The result will be just as good as with lip scrubs. Don't forget to put some lip balm afterwards though.

4. Revive Mascara
Do you ever go to put on your mascara only to find it all gloopy and dry and just old. It's ok, it happens to the best of us. Thankfully there's an easy trick that will come in handy when you're in a pinch and don't have time to go buy a new mascara. Just either soak the closed mascara tube in some hot water for a couple of minutes to melt it a bit, or just add a couple of drops of hot water into your mascara to revive it.



5. Mascara As Eyeliner
Did you know that mascara and eyeliner are both very similar in consistency and ingredients? So if you ever run out of eyeliner you can always use mascara instead. Just scoop some onto a small eyeliner brush and paint on your perfect wing.

6. Thicker Lashes
While we're on the topic of eye makeup, let's talk about lashes. Everyone wants to have long, thick lashes, but mother nature didn't bless us all. However, there's an easy way to add more volume to your lashes and give your eyes that extra bit of drama that you crave. Just dust some powder on them before applying mascara. You'll be surprised at how much of a difference it makes.



7. Lipstick Blush
It's a well known fact that matching your lipstick to your blush provides the best result when it comes to makeup. However, you don't have to go around looking for a perfect blush to match your favorite lipstick. You can always use lipstick as blush. Just dap a small amount of it on your cheeks and blend it with your finger. The result will look effortlessly natural and your cheeks will compliment your lipstick perfectly.




#Easy #Makeup #Tricks #Life #EasierBeauty #Beauty